Join Us at Our Next Monthly Meeting!!
Our regular monthly meetings are held on the second Tuesday of each month (except December) at the Marietta Museum of History located off the Marietta Square.
The address is:
Marietta Museum of History
Conference room, first floor
1 Depot Street
Marietta GA 30060
(located just off the square in downtown Marietta in the old Kennesaw House)
The next meeting date is:
Tuesday, November 14, 2017
Social gathering and networking:
6:30pm
Program and meeting:
7:00pm - 8:30pm
Guests and visitors are always welcome!!
Our next meeting will happen on Tuesday, November 14. The program will feature Mrs. Klaus Cast Iron Christmas Village. Come hear Pat Lyon tell about how her collection of cast iron horse-draw wagons grew into a village. Visitors welcome!! Refreshments at 6:30pm.
Remember: Street parking is sometimes available in the area. There is also a municipal parking lot just across the tracks from the Museum building. There is also designated Museum parking spaces which are available to us on Tuesday evenings since the Museum itself is closed. Our preference is for that to be used for handicapped parking.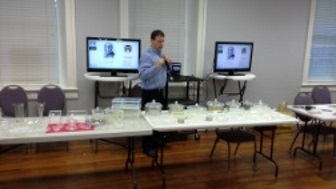 Bob Dahlhofer, club vice-president, presented his collection of Fry Ovenware along with a very interesting history of the Fry Glass Company. Many of us will now be searching for the Fry trademark.

Be sure to join us for our next meeting on May 9.