Celebrate the 37th Anniversary of the Annual Collectible Glass Show and Sale at the Cobb Civic Center in Marietta on July 27-28.
Presented by the Peach State Depression Glass Club, this beautiful show is for anyone interested in American glass. There is something for everyone to enjoy, from the novice to the advanced collector. Featuring 28 top dealers from across the nation, you will find booths filled with glass, pottery and kitchenware from the 1880's to the 1970s, with an emphasis on Depression Era and Elegant Glass. Stroll down the wide aisles to find glass from major vendors including Cambridge, Heisey, Fenton, Blenko, and Fostoria, vintage pottery from Roseville, Hull, and others, and a delightful assortment of kitchenware such as Fire King and Jadeite.
Enjoy free educational seminars to learn more about several major glass manufacturers (McKee Glass, Beaumont Glassware and Blenko), along with helpful information on glass identification and starting a glass collection. See the schedule below for more information. Browse our glass displays and have up to three pieces of glass or pottery identified at no charge by our glass ID team.
---
We are also pleased to announce that John Forrester will have a glass repair shop at this year's show.
---
2013 Glass Show Seminars
You are invited to join our 30-minute seminars. Become a more informed shopper as you learn more about the glass that you love to collect and use. These seminars are designed to give you valuable information about your collections, to aid in your shopping, and to teach something new about the history and artistry of American-Made Glassware!
Saturday, July 27, 2013
12:00-12:30 pm "McKee Glass: Where did the molds go?"
Presented by Lucy and Jim Slusher (PSDGC Members)
1:00-1:30 pm "Beaumont Glassware of the 1920s and 1930s"
Presented by Helen Jones (Backward Glances Antique and Collectable Glassware; West Virginia Museum of American Glass)
2:00-2:30 pm "Elegant or Depression: Which is which?"
Presented by Pam and Fred Meyer (Looking Glass Productions)
Sunday, July 28, 2013
1:00-1:30 pm "Blenko Designer Wayne Husted"
Presented by Deborah Allen (Past President of the PSDGC; Member of the Blenko Collector Society)
2:00-2:30 pm "Ideas for Novice Collectors: Where do I begin? What do I look for?"
Presented by Gary McDonald (Past President of the PSDGC; Glass Identification Wizard)

The Peach State Depression Glass Club is looking forward to seeing you at our 37th Annual Show, where you will be greeted at the door by club members. Proceeds from the show are used for the preservation and education of American glass. You are also invited to join us at our monthly meetings as our guest, and to join our organization. Please contact the following for more information:
Show Chair: Dee Komro | 770.434.3753 | psdgclub.showchair@gmail.com
Marketing: Lorna Hart | 770.853.5327 | psdgclub.marketing@gmail.com
Club President: Sherry Byrd | 770.422.4749 | psdgclub.president@gmail.com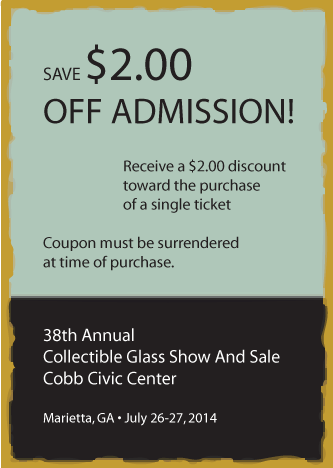 [ click the image to download the coupon ]
2012 show photos