45th Annual Glass Show and Sale
ABOUT THE 2022 GLASS SHOW
| | |
| --- | --- |
| When: | Saturday, July 23, 2022 | 10:00am | 5:00pm Sunday, July 24, 2022 | 10:00am | 4:00pm |
| Where: | Cobb County Civic Center | Marietta, GA 548 South Marietta Pkwy, Marietta GA 30060 |
| Admission: | $8 per person (ticket good both days) Early Bird Shopping Saturday starting at 9:00am | $15 |
| Contact: | showchair@psdgc.com |
LOCATION AND EXHIBITORS - The Civic Center provides ample space for the invited national exhibitors from different regions of the United Sates to magnificently display their merchandise, share their knowledge, and sell their merchandise. It is a place for everyone.
Come, See, Learn, and Shop! You will find a large assortment of American-made glass before 1980. Look for brilliant cut, pressed glass, elegant and depression era glass, mid-century modern, and art glass.
You will find it all! Looking for kitchenware, porcelain, china, pottery, books about glass, and even jewelry, that too will be on display and much-much more.
Seek and you will find! If you need a rare or collectible piece for your collection, want to add a new piece to your collection, seek things you love and intend to use (glass is environmentally friendly), something to decorate your home or office, an item as a self-reward for an accomplished goal, or a gift for a friend (early Christmas shopping).
It is here and you can find it! Our dealers are the most friendly and helpful people on earth and will share their knowledge with you. Learn from their labeled pieces on display and don't be afraid to Ask Questions - Get Answers!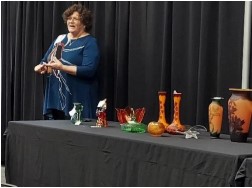 SEMINARS & AUCTION: Our seminars will be held in the conference room located just off the lobby on the front right side of the building. (Look for signage). We will feature old and new glass and will be conducting an auction to raise money to support student scholarships at Georgia Southwestern University (Dept. of Fine Arts/Glass Blowing - Americus GA).
Saturday, July 23, 2022, 12:30pm: Special glass blowing presentation taking place on the front entrance deck where you canít miss it. Charles Wells, Instructor in the Glass Blowing program in the Fine Arts Department at GA Southwestern State University, Americus, GA, and a few of our scholarship recipient students will join him. You will not want to miss this special opportunity.
Saturday, July 23, 2022, 3:00pm: "Light Up Your Life" Veronica Neal of Athens, TN, who collects candlesticks including some rare ones, will be sharing her collecting story with us. She will also exhibit several pieces in a special display near the front of the arena.
Sunday, July 24, 2022, 1:00pm: Special glass blowing presentation taking place on the front entrance deck where you canít miss it. Charles Wells, Instructor in the Glass Blowing program in the Fine Arts Department at GA Southwestern State University, Americus, GA, and a few of our scholarship recipient students will join him. You will not want to miss this special opportunity.
Sunday, July 24, 2022, 2:30pm: "Glass Collecting 101" Two club members, Barbara White and Cynthia Hillman, will be sharing tips on getting the best out of your collecting experience. They will offer suggestions and cover topics like "what I wish I had known," what to look out for, and what makes sense as you navigate in-person and online shopping. They will also share a couple of ideas on how and when you have to reduce your collection!
CHILDRENíS PROGRAM: This year children ages 6-16 (when accompanied by an adult) will be invited to participate in a Scavenger Hunt on Saturday during show hours. When greeted at the door, children will receive (or can request) an entry form. This will be a booklet featuring a few things for the youth to seek out. When the child finds that item in a dealerís booth, they should seek out the dealer, ask questions and present their booklet to the dealer for verification. The dealer will sign the page of the matching item.
When the child has completed the hunt or just before leaving for the day, they should bring their booklet to the membership table, receive a participation gift, and be entered into the master drawing to be held at 4:00 PM on Saturday (do not have to be present to win Ė Parents will be notified and asked to make arrangements for gift pickup.) makes sense as you navigate in-person and on-line shopping.
Please visit these dealers who are exhibiting at this year's show.
Richard & Barbara Bartlett
Elegant Heisey Crystal
Pointe Vedra Beach, FL

Dennis Bialek & Ronald Mandigo
Dennis Bialek Glass
Seminole, FL

Roger & Rebecca Bowen
Bowen Collectibles
Norman, OK

Rod & Pam Dunkel
Pam Dunkel Glass
Peru, IL

Pat & Sharon Ervin
RAE Patrick Ent.
Sycamore, IL

Bob & Pam Franscella
Depression Classics
Gurnee, IL

David Hollingshead & Adam Headley
Thirties Premiums & Canyon Antiques
Kansas City, KS

Linda Hukriede
Lindaís Caravan
Grand Rapids, MN

Tracy Kaswinkle & Harold Solomon
Dragon Bird Glass
Plantation, FL

Lorrie Kitchen & Mark Hunter
Lorrie Kitchen Antiques
Toledo, OH

Robert & Amy McMichael
Blue Bonnet Antique Glassware
Tyler, TX
Stephen Moniz
Green with Envy
Staten Island, NY

Art & Shirley Moore
Tulsa Card Co.
Tulsa, OK

Autley & Kathy Newton
A Few Old Things
Hammond, LA

Larry & Brooke Newton
L & B Glass
Longwood, FL

Steve & Carla Rausch
Glass of the Past
Broken Arrow, OK

Glen & Carolyn Robinson
White Rose Antiques
York, SC

Kevin Rose & Bob Dahlhofer
Rose Glass
Kennesaw, GA

Jim & Ruth Singleton
Ruthieís Antiques Rockmart, GA
Rosemary Trietsch
Just Glass
Albertson, NY

Mark & Jodi Uthe
Gingerbread Antiques
Dumont, IA

Glass Repair by
John Forrester
The Crystal Repair Doctor
Statesboro, GA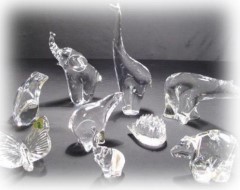 CLUB GLASS DISPLAY - "Our Menagerie:"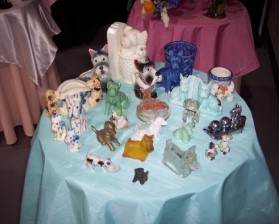 The Club members will be displaying objects from their collections. This may feature:
Animal Figurines - Glass or Porcelain or, Milk-Glass rosters and hens
Animal shaped serving pieces: swans, butterflies, birds, horseshoes, etc.
Pieces featuring animals: Decanters, mix shakers, stems, vases, bookends, candle sticks, boxes, and salt and pepper shakers.
Etched glass patterns on depression era glass (Black Forest by Paden City, Deerwood by US Glass/Tiffin, Delilah Bird by Paden City, Horseshoe by Imperial Glass, Imperial Hunt by Cambridge Glass Co., Peacock and Rose by Paden City, or similar items)
Depression & Elegant Glass Patterns with animal names (Bullseye, Butterfly and Roses, Crow's Foot by Paden City, Flower Garden with Butterflies by U.S. Glass., Georgian Love Birds by Federal Glass, Parrot/Sylvan by Federal Glass, Oyster and Pearl by Anchor Hocking Glass Corp., Round Robin by Economy Glass, shell pink by Jeannette Glass, etc.)
Kitchen ware with animal features: rooster canisters, roster decanters, salt and pepper shakers with Scotties or chickens, mugs with bears, butterflies, frogs, Tony Tiger, Donald Duck, Pluto, Minnie Mouse, Micky Mouse, cows, horses, elephants, etc.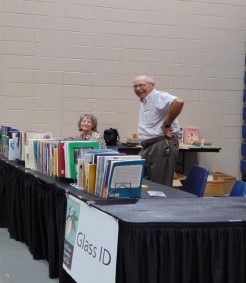 GLASS ID - Our knowledgeable club members provide Glass ID both days during the show. Attendees can bring three pieces of glass to be identified (at no charge). We ask that you abide by this request as we want all show attendees to have the opportunity to take advantage of this service. The Glass ID area will be located by the elevators upper level back of arena.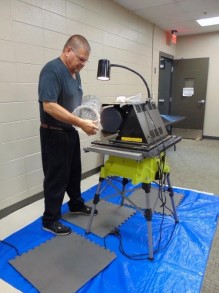 GLASS REPAIR - John Forrester will again be providing glass repair service in the meeting room on the upper level back left. He can polish out small chips and smooth rough edges. He will advise if he is able to put broken pieces back together. Bring your items and he should be able to complete the work while you shop. Price of repair depends on type of glass and size of item as well as the difficulty of the task.
DOOR PRIZES - Registered guests are eligible for door prizes given through out the weekend. Make sure you receive the registration card from our front door greeters, complete the information, and drop it in the Peach Bowl for the drawings. The prizes are given throughout the weekend and provided by the club. You may get a gift certificate to be used in one dealer booth or a one-year club membership. One each will be given about every hour. You must be present to win so stay and shop with us all day for the best chance.
ABOUT THE SHOW - Proceeds from this show go to support Student Scholarships in the Fine Arts Department (glass blowing) at Georgia Southwestern State University, Americus, GA. It also provides some support to National Depression Glass Museum in Wellington, KS, the Museum of American Glass in Weston, WV, and the Houston Museum in Chattanooga, TN.
This show is always held the fourth weekend in July and features prominent dealers from across the nation. Don't miss it on July 23 and 24 at the beautiful Cobb County Civic Center, Hudgens Hall - 548 South Marietta Parkway, Marietta, GA 30060.